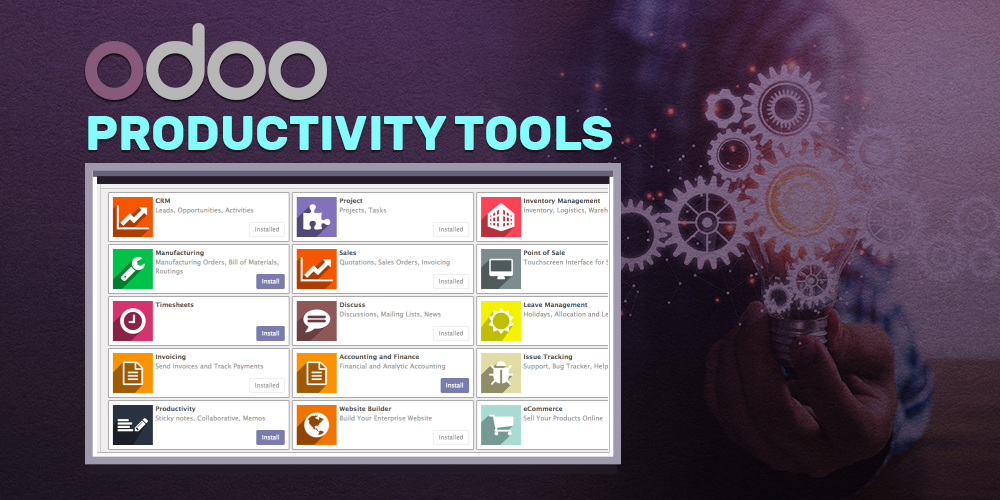 Have you ever wondered how and why advanced ERP systems have become so significant for modern businesses? If you have, you are in the right place. We will, in this blog, unfold what special these ERP solutions, especially Odoo, have gotten to make business management easier than ever.
Firstly, the most crucial contribution ERP systems make to modern-day businesses is their alignment with technology and software which not only provides precision and accuracy in results but also increases transparency and flexibility while minimizing room for error. In this intermingling of business with technology and software, there are a number of things modern small, medium, and large business enterprises look for to get important business tasks done in less time with less cost and more accuracy. Odoo ERP has proven to be an all-in-one solution with its cost-effective approach, customizability, scalability, and user-friendliness. Let's discuss other most productive features offered by Odoo ERP.
Sales and Profit: To increases sales and hence getting more profit is one of the core goals of all business enterprises whether they be small, medium, or large. Odoo ERP perfectly suits to achieve this goal. Through its cool sales module, PoS features, and CRM options to turn one-time customers into long-term clients, you have all the tools to boost sales and hence have more profit with Odoo.
Managing Finance: Taking care of business expenditures, purchases, and procurement along with accounting and finance helps you manage the business effectively and insightfully while keeping an eye on costs and profits.  Odoo offers you all that.
Integrated Business Operations: All business tasks performed by different office teams do not operate in isolation instead they operate with collaboration. Odoo ERP perfectly matches this collaboration need with its fascinating integration modules where it helps your business integrate various tasks together i.e. through timesheets, helpdesks, projects, marketing, e-commerce, etc.
Streamlined Operations: Business departments such as purchase, inventory, and MRP need to be in touch more than others, so Odoo helps you do that easily and effectively.
Automated Marketing: Can you really do your business without marketing your products or services? No way, right! Therefore, Odoo Marketing offers you fully integrated and optimized marketing tools to save your time and cost. It helps you engage with more customers, create new leads, and offer more business opportunities.
Website Building: Odoo not only performs basic business operations as mentioned above, but it also helps you build new, stunning websites to attract more customers and make you rock the e-commerce business world.
Easy Customization and Expansion: Odoo is the most cost-effective ERP when it comes to customize and expand. It provides you detailed analyses of the new benefits that customization and expansion will bring to your enterprise while keeping the overall business process independent and transparent.
These are all must-have features that Odoo brings for small and medium business enterprises. If you have any queries about Odoo, ERP implementation, customization, or expansion, reach out to Comstar USA for more details.