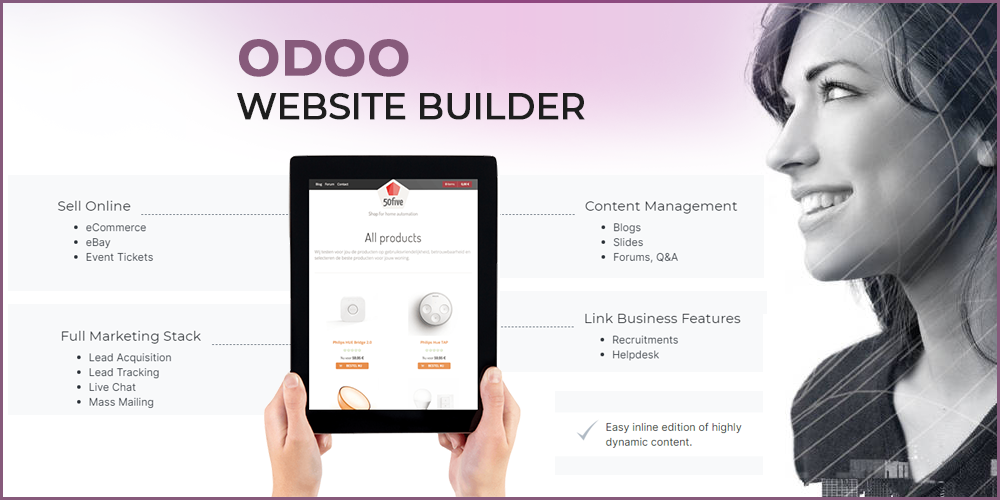 It is imperative that your business have an inviting website. If you do not have one already, you are missing on potential customers. You are not utilizing a chance to present your business, your ideas, your motives, and your goals in a lively, creative manner. In short, you do not have a storefront. Furthermore, on a website, you give an overall description of various products and services that you offer and explain how you go about implementing them, how your products or services solve your customer's particular problems.
There are many ways to have websites built for small, medium, or large business enterprises. You might look for a company offering website development services, or you can opt for a professional freelancer to build one for you. The point is what is going to be most effective, easy, and integrated while saving you time and resources. For this, we recommend using Odoo Website Builder because it is an integrated website building solution that comes with Odoo ERP. If you use Odoo ERP, which is the most adequate ERP solution for small and medium business enterprises, you have all business modules on one platform, such as sales, accounting, finance, HR, marketing, and others. Thus, Odoo Website Builder will easily take data and information from these modules and present it on your website.
Other important benefits Odoo Website Builder offers include:
It is open-source, easy, mobile, and cost-effective.
It is an all-in-one resolution where you can easily add customer portals, events, company blogs, newsletters, jobs, call-to-action, and whatnot.
It efficiently fulfills your branding needs and automatically adjusts to your branding demands.
Odoo Multi-Website offers diversification and opportunities for better customer engagement and segmentation.
You can build multiple websites with differing themes, domains, brands, live chats, blog options, etc.
It is easily integrated with other apps, so it can be extended to incorporate with them, such as events, eBay, e-commerce, blogs, forums, live chats, etc.
Thus, these are all compelling, cool features that Odoo Website Builder offers you. If you want to have it implemented at an effective cost, just reach out to Comstar USA. A demo will show you how it will improve your website.